Ana Rewakowicz
Canada / Poland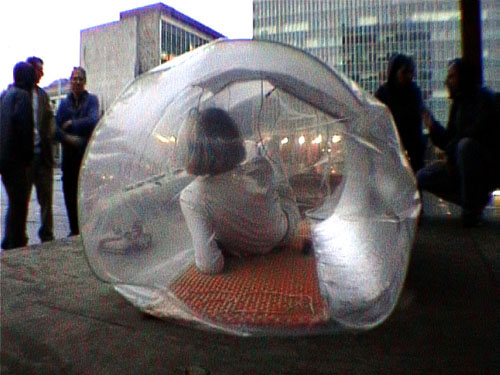 SleepingBagDress Prototype II
2004-2005
Mixed media installation and videos
SleepingBagDress Prototype II is a dress that inflates into a tent. Using solar panels and a small fan, it becomes an autonomous habitat.
When contemporary society invents a new form of nomadism: the chosen one of the cyberlinked and their wearable technologies; when it strenghtens the forced one of political, economical but also now climatic refugees; when megalopolis turn into extreme environments: what does home mean?
Anna Rewakowicz writes : My life experiences have influenced my art practice; as a person who has moved from one culture to another and lived through cultural and language adaptations, I have been interested in the issue of transience and how it relates to the notions of identity, belonging, and living in a society of global and technological developments.
---
Biography

Canadian/Polish artist/designer and researcher living in Montreal, Canada. In her works she explores questions of identity as expressed through clothing and habitation. In contrast to the stable mass of monumental sculpture and architecture, her costumes and structures are an air-filled, mobile art form concerned with places and people that activate them. Her art has been shown and experienced nationally and internationally in Mexico, USA, France, Belgium, Estonia, Scotland, Germany, Norway, Finland and Mongolia.