Hu Jie Ming
China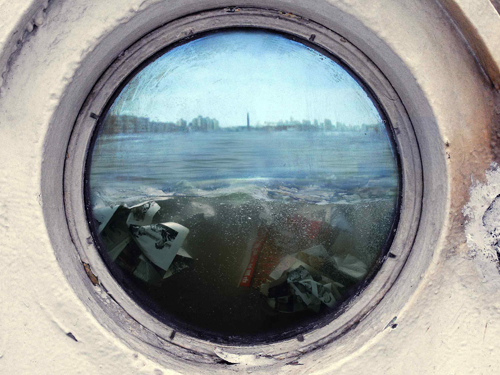 Altitude Zero
2006
Interactive video installation
Behind a porthole, the sea with, in the background a city deploying its skyscrapers. A magnificent, imposing, pure sea. The viewer is attracted by this window on the ocean and on the city to explore. When s/he comes closer, floating waste is all what can be seen. Through this very simple interaction, Ming confronts the viewer to his/her own responsability in the massive pollution of the oceans, to this "plastic soup" that marine currents are dragging in the middle of the Pacific.
He writes : The drifting materials remind us of the remnants of different cultures and times. Sometimes they clash against the windows, and float away at other times, resonating between the viewers and the objects.
---
Biography

Born in 1957, lives and works in Shanghai. One of the first Chinese artists to practice in new media arts. Hu has been exhibiting his work extensively inside and outside of China. Hu's solo exhibitions include : Raft of the Medusa, Center for Contemporary Art of Asia, Vancouver, Canada (2002); Conected to You, BizArt, Shanghai (2003); Reverberations of the City, Dimensions Art Center, Beijing (2005); Creative Garden, Shanghai (2006). Parmi ses expositions de groupe : Art in Technological Times, San Francisco Museum of Modern Art, San Francisco (2001); Live in Time, National Galerie Im Hamburger Bahnhof Museum Fur Gegenwart, Berlin (2001); Between Past and Future: New Photography and Video from China, International Center of Photography, New York (2004); The Thirteen: Chinese Video Now, P.S.1 Contemporary Art Center, New York (2006).