Howard Boland & Laura Cinti
United Kingdom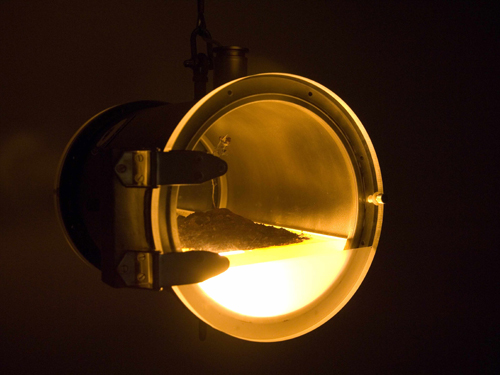 The Martian Rose
2007-2009
Mixed media installation, new edition for @rt Outsiders 2009
In a cylinder, evoking a space probe, stands a rose which beforehand had been placed in a planetary simulator and exposed during 6 hours to a martian atmosphere. But Mars is not the B612 asteroid of the Little Prince: the rose is dead. In a strong poetic approach, The Martian Rose reminds us of the deadly environment that outer space is.
For the artists, the work carries the romantic idea of giving a rose to Mars and its encounters with extreme climate, a rendezvous of science and culture.
The experiment was conducted at The Mars Simulation Laboratory, University of Aarhus, Denmark. The artists would like to express their sincerest gratitude to Dr Jon Merrison. The project has been supported by a grant from Office of Contemporary Art Norway. A new edition of the work has been supported by the @rt Outsiders Festival 2009.
---
Biographies

Howard Boland is a practicing artist focusing on language and narrative processes within the intersection of art and science. He is a co-founder and artistic director of c-lab. He has backgrounds in Mathematics, Software Systems for the Arts & Media and Digital Practices.

Laura Cinti is an artist/researcher working within the intersections of art and plant biology. She has exhibited internationally and is co-founder of c-lab. She is a PhD candidate at UCL working in an interdisciplinary capacity between the Centre for Advanced Biomedical Imaging and The Slade School of Fine Art.