Stephen Eastaugh
Australia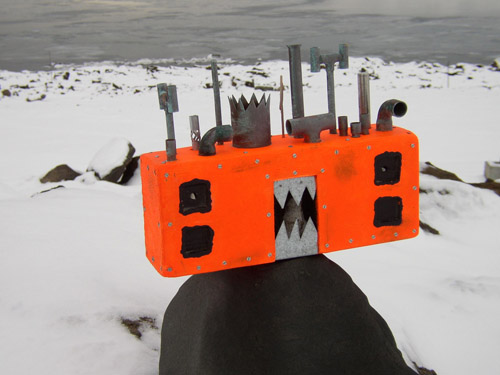 Antarctic Sculpture Garden
2003
Photographie
In 2003, while he was an artist in residence at the Australian Antarctic Base of Davis, Stephen Eastaugh created a sculpture garden with found material. @rt Outsiders presents a series of photographs of this «garden» which evokes the environment with an iceberg (Headhome-Berg), a polar tent (Headhome-Polar Tent), a living container (Headhome Bonsai Donga) and a sign post reading Everysomewherever.
Currently wintering over at Mawson Base, Stephen Eastaugh writes: An element of homage creeps into all my work along with this desire to know the place and communicate this knowing but it is too big to know and must be constantly re-mapped. In the end, as I hold on to the blizzard line, it seems that all I can do is increase the puzzle of awareness.
---
Biography

Since 1987, Stephen Eastaugh has held 60 solo exhibitions and participated in more than 100 group exhibitions both in Australia and overseas. Moving every three months to a new city, country or continent, over the past 25 years has lead him to 80 countries scattered across all continents. He has visited Antarctica eight times and is based at Mawson station as the artist in residence for the entire year (2009) under the Australian Antarctic Divisions Art Fellowship program.
self-interview done on August 29, 2009.
---
This project has been assisted by the Australian Government through the Australian Antarctic Division's Australian Antarctic Arts Fellowship.