Lucy + Jorge Orta
France / United Kingdom / Argentina
Antarctic Village – No Borders
2008
video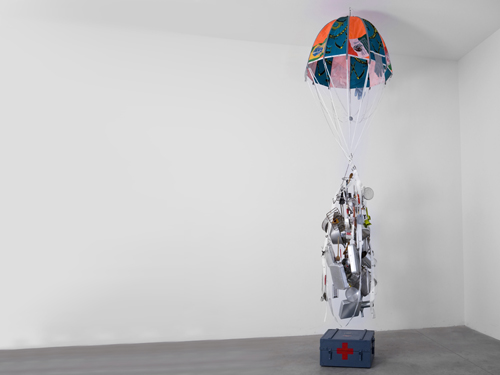 Antarctic Village – No Borders, Drop Parachute
2008
installation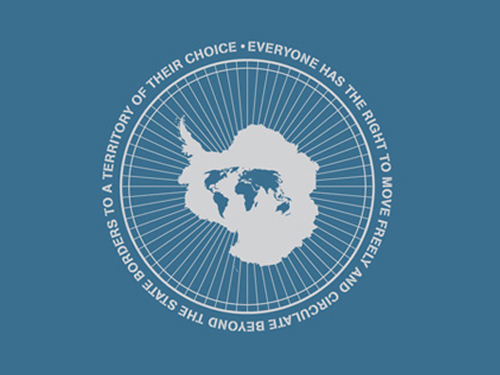 Antarctica World Passport – Delivery Bureau
2008
installation, performance
Antarctica World Passport – Citizenship Database
2009
online art
http://antarcticaworldpassport.mit.edu
Is it possible to imagine a world withour borders? A territory that would belong to no one, or to everyone? The Antarctic Treaty guarantees, until 2041, that the continent will not be owned by States and that it will be used only for peaceful scientific researches.
In 2007, Lucy and Jorge Orta created Antarctic Village – No Borders on the Argentinian Base of Marambio, on the antarctic peninsula. They installed a temporary village of 50 dome tents onto which they sew flags of different nations with remnants of garments and gloves. The flags and garments are decorated with silkscreen-printed texts showing a new article, written by the artists, proposed for the Universal Declaration of Human Rights. They propose an amendment to Article 13 to guarantee every individual the right to move freely beyond national boundaries, without any discrimination whatsoever. Symbol of refugees, immigrants, people finding themselves without papers, Antarctic Village – No Borders refers also to Antarctica as a common territory.
From the initial project, a body of works has emerged among which a video installation, the Antarctica World Passport and a new work currently being developped, The Antarctica World Passport – Citizenship Database.
---
Biographies

Lucy Orta was born in the United Kingdom in 1966. She trained in fashion design and began working in the visual arts in 1991. Her work explores the relationship between the body and architecture and between communication and identity.

Jorge Orta was born in Argentina in 1953. He trained as an artist and an architect. A painter, he is one of the first Argentinian artists to work with light and video.

Lucy + Jorge Orta have been working together since 1991. As well as sculpture and painting, they produce performance pieces, temporary installations and workshops exploring crucial contemporary themes: social relationships and communication, the environment and sustainable development, habitat and the community, mobility and migration. Many contemporary art museums have shown their work in monographic exhibitions.